Need more information?
Download our free Product catalogue
DOWNLOAD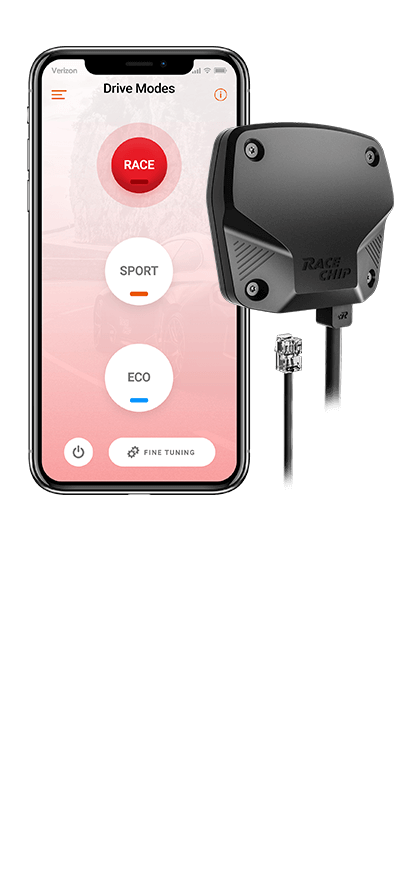 RaceChip XLR Performance Chip Tuning Mercedes-Benz C-Class (W/S/C204) (2007 - 2015) C 200 CGI (184 HP/ 135 kW)
With the RaceChip XLR, you can easily tune your car's throttle response to your taste – from a comfortable sedan to a racy sports car. That makes it the perfect add-on to our chip tuning boxes. More
RaceChip XLR – driving dynamics as you want
We developed RaceChip XLR to increase responsiveness on the road. Our innovative throttle tuning system lets tune your engine's reactions to your taste – choose from 7 separate stages. You'll love your car's improved dynamics – we promise. Many arguments speak in favour of RaceChip XLR:
Better throttle response

No official approval needed

Easy to install

7 separate stages

Perfect add on to chip tuning
The innovative XLR
The Brainbox – the nerve centre
The Brainbox monitors and controls all the processes involved in optimising throttle response.
Included in all configurations.
Control option 1: Controller
RaceChip XLR can be controlled conventionally using a newly designed Controller which is connected by wire to the Brainbox. The driver can use the Controller to select any of the tuning stages at any time.
7 separate tuning stages
Fast, intuitive operation
LED display
Included in this option:
Brainbox + Controller
Control option 2: App
RaceChip offers you the option of controlling XLR right from the RaceChip app running on your smartphone. RaceChip XLR communicates with your phone via Bluetooth.
7 separate tuning stages
Fast, intuitive operation
Wireless control of tuning stages
App shared with chip tuning
Automatic software updates
Included in this option:
Brainbox + Controller + App control
Summary of your optimization
Mercedes-Benz-&nbspC-Class (W/S/C204) (2007 - 2015)-&nbspC 200 CGI (184 HP/ 135 kW)
Optimized Mercedes-Benz
Ready to ship within 24 hours

Ready to ship within 24 hours

Get it Quick (ONLY MAIN CENTRE'S)
R 100 will ensure that delivery of your order will be within 1 – 2 working days. (Next day delivery for certain main centres ONLY) Orders need to be placed & paid before 14:00 on a working week day in order for your parcel to go out on the same day.

Get it Not So Quick Standard delivery –
All orders qualify for FREE delivery (Applicable to areas within South Africa.) Delivery will take place within 3 – 5 working days. Upon receiving the parcel and signing for delivery – inspect the product for any faults, defects or damage. Please keep the receipt of the delivered product, just for precaution.

Free shipping within SA

Free shipping within SA

For orders within SA, the delivery costs are on us.

14-day returns

14-day returns

You have the right to return your product within 14 days of receiving it.